Joined

Jan 11, 2005
Messages

1,354
Recap. The total trip was 715 miles; we traveled in Lake Erie, Lake Ontario, and the Welland, Oswego and Erie canals and the Niagara River. We did 33 locks and went under 210 bridges. Debbi (Admiral) has a thing about going over bridges…now she has a thing about going under them!! The cast of characters included a 37' Larson express, 36' Silverton express and our 36' Mainship. We left our home port of Ashtabula Oh on 7/1 and returned home on Sunday morning 7/18.
Map of the route
Day 1. We made the push to Erie Pa and stayed at the Erie Yacht Club. The first of many "tight" parking spots.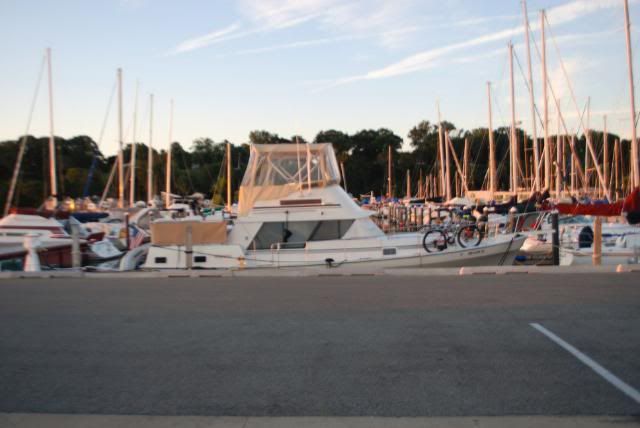 Day 2. We left Erie early in the morning and arrived at Port Colborne, On. before noon. We stayed at Sugarloaf Marina. Customs was the normaleasy phone call.
Day 3. We arrived and paid ($184 USD) for the Wellland Canal transit. We were told about an hour and a half and we would get the call to start.
The holding pen!!
Waiting for the bridge that would send us down bound on the Welland.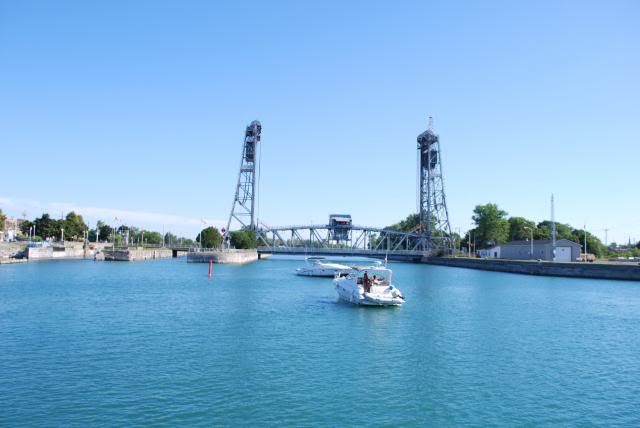 A fourth boat (40' Mainship) joined us. Per transit rules, in the higher speed areas of the Welland you are only allowed to go as fast as the slowest boat in your group, you have to stay together. So for our group that was 7 - 8kt.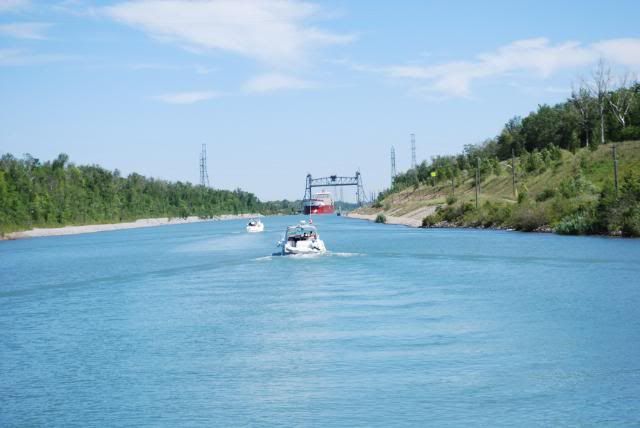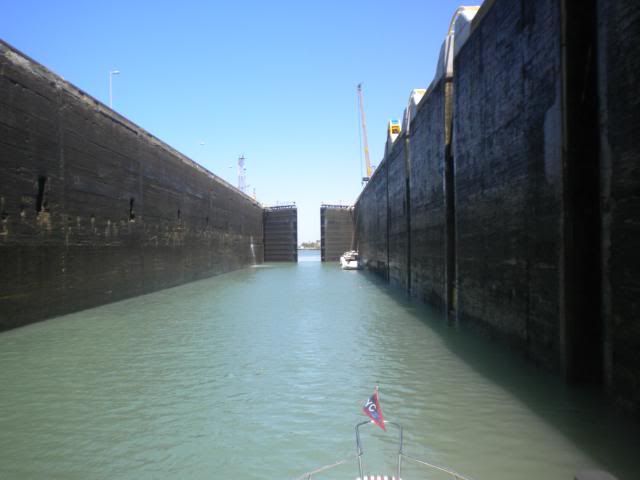 Shiz starts to happen…
After doing the drive through of lock 8 I noticed hydraulic fluid on the bridge floor under the helm. It was leaking where the steering shaft came out of the pump. We chatted among ourselves about it and we continued on. Right before lock 7 we were ordered to pull over and stop on the wall. I thought great, we can check out the steering problem. It was really windy and the Welland doesn't provide much for pleasure boats to tie up to. There are bollards but they are about 25 feet from the edge. Debbi got our longest lines ready and the plan was as soon as we were up against the wall I would grab the stern line, exit the boat, go out around the bollard and back to her and tie off to the bow line that she held. In my haste to get this done quickly I didn't see that she had the safety cord up on our entry way. It caught my left ankle and launched me out onto the concrete where my full weight came down on my right side. X-rays after getting back reviewed that I had fractured two ribs. Even though I was hurting I forced myself up and finished the tie off.
There has been worse, our Welland transit took 11 ВЅ hrs counting the holding area. The steering lasted to the end and we got docks around the corner at St Catharines, On. It was a long day!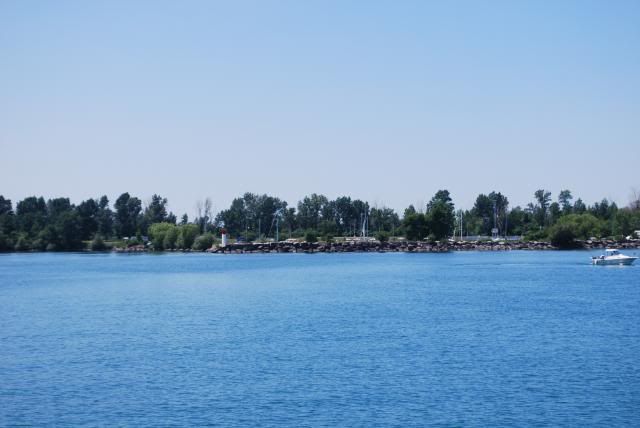 Day 4.
We devised a plan to "steal" the pump from our lower helm and move it to the bridge. A friendly Canadian drove me around till we found a place to buy caps to cap off the hydraulic lines from the lower helm. We had it fixed by noon and decided to change our plans and headed over to Toronto.
We got dockage on Toronto Island and we stayed for two days. It was a busy weekend in Toronto. The queen was in town, the tall ships were in the harbor and Gay Pride had a huge gathering.
Tall ships leaving port…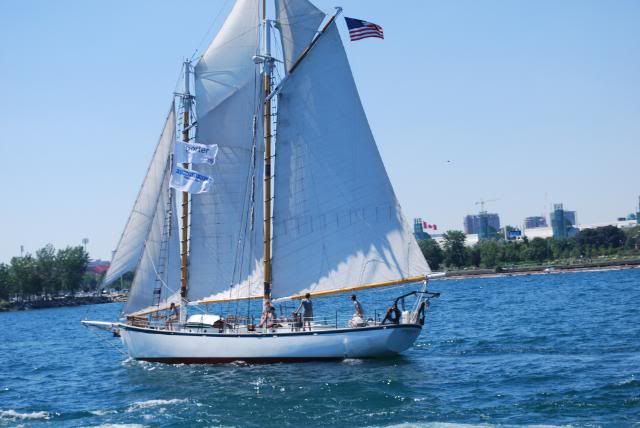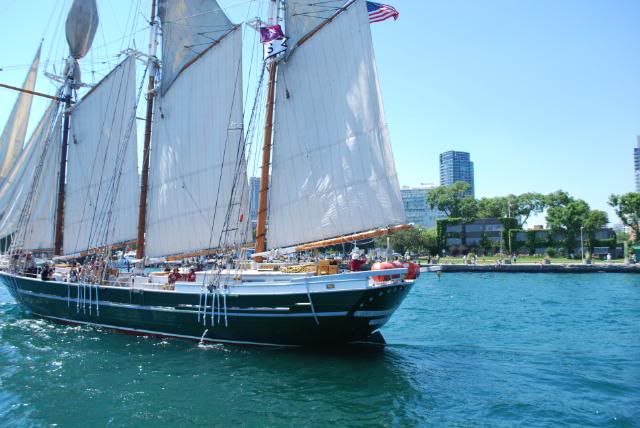 Toronto skyline.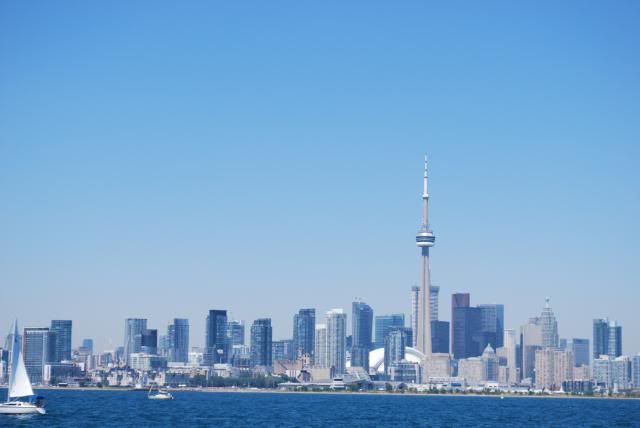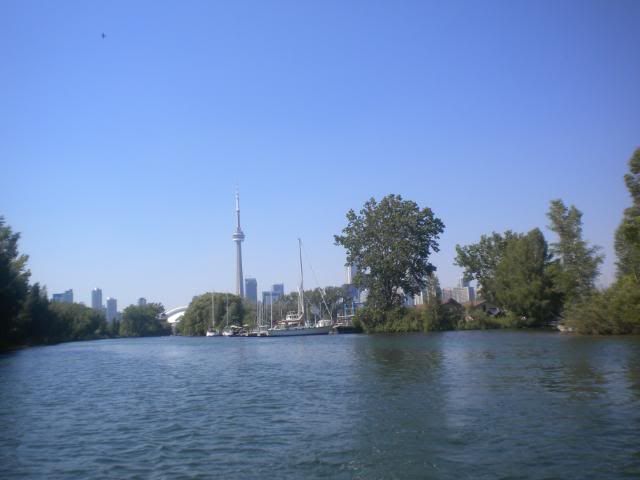 Day 6.
None of us had taken on fuel since day 1 in Erie and we didn't want to pay the $6 a gallon for gas so we decide to head straight back to Wilson NY to fuel up and do US customs. It took us 2 ВЅ hours to fuel the three boats and do customs.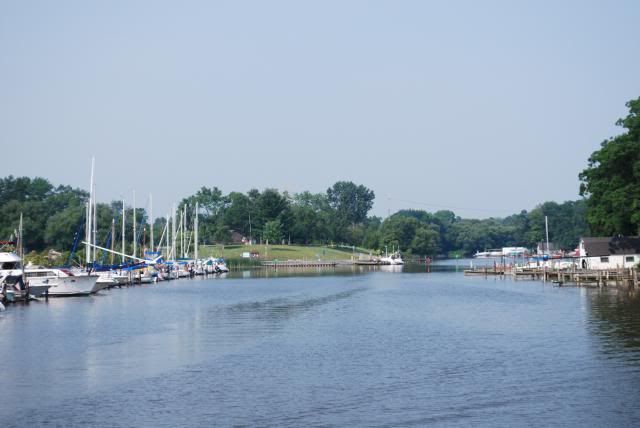 Some creative docking while waiting my turn at the video phone! I didn't know how much water there was plus it would not have fit anyways.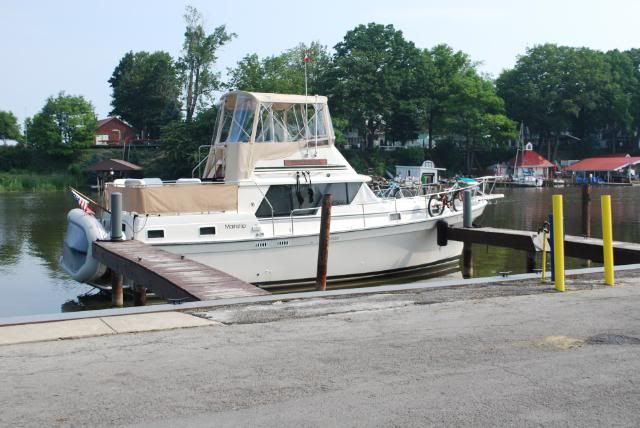 After we all fueled we heading on to Rochester and the Rochester Yacht Club where we spent 2 nights.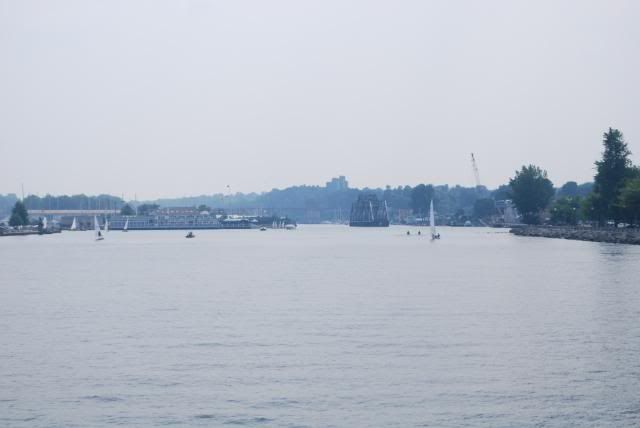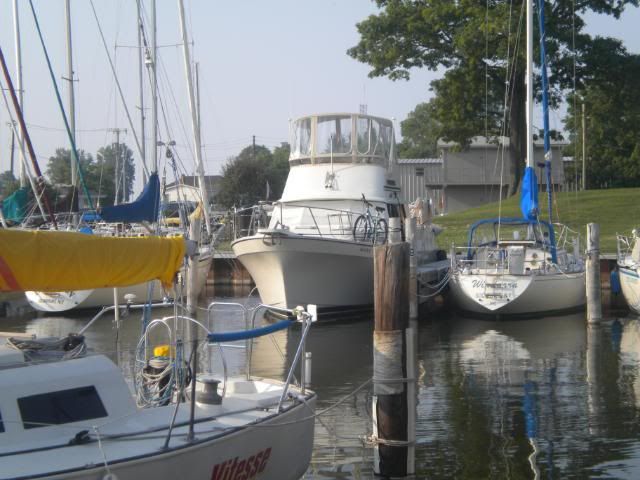 Lunch in Rochester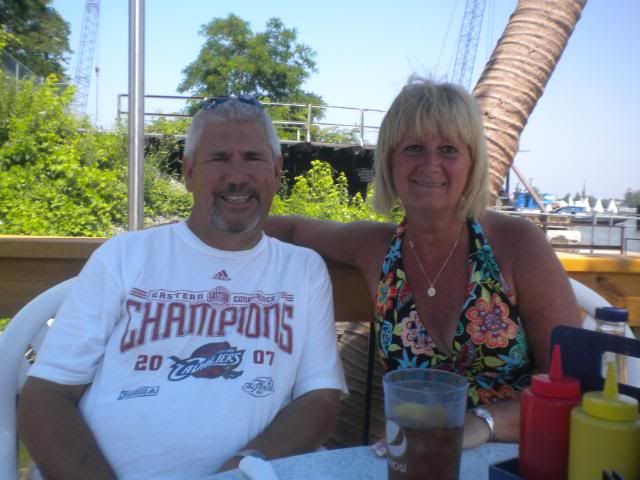 Day 8.
We got an early start and headed to Oswego where we entered the Oswego Canal.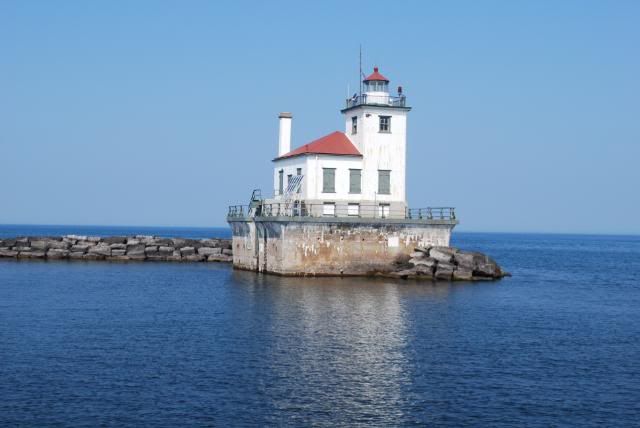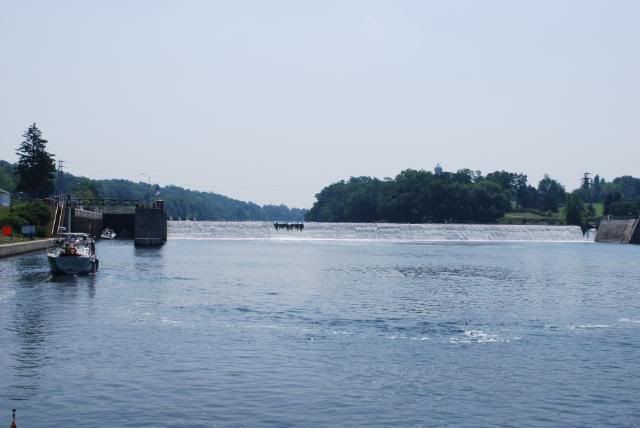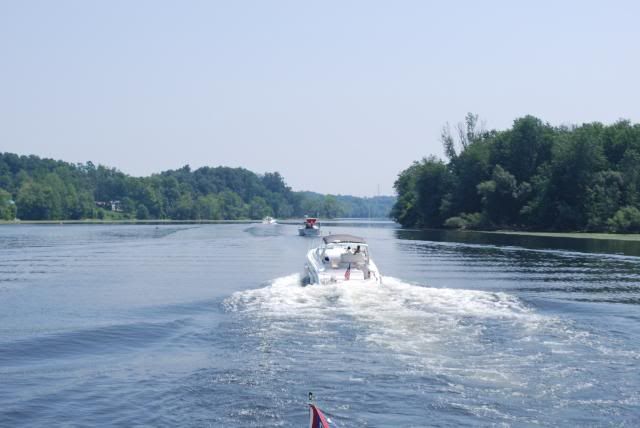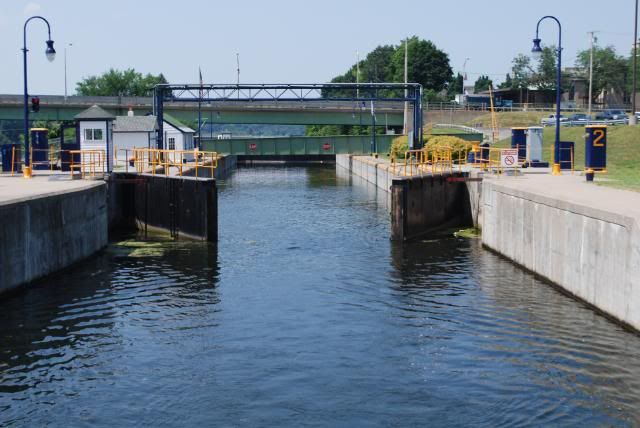 Junction of the Erie and Oswego at Three Rivers.
Here is what you get when you run out of options and it is getting late in the day that was 95+ degrees. The owners of this stop over were VERY nice. This came back to haunt me later with crap in my starboard oil cooler.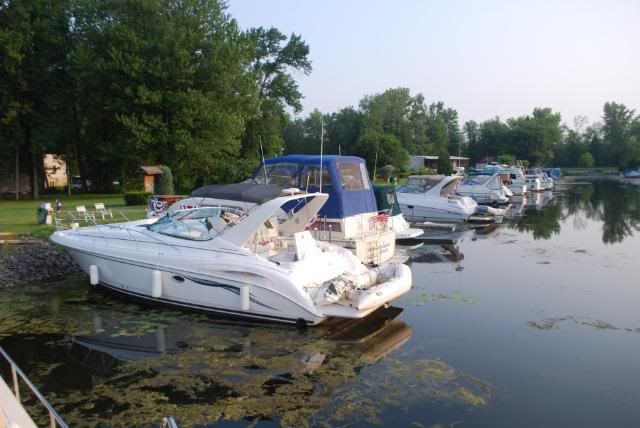 Day 9
Seneca Falls NY. Nice town. This is the place where women's rights movement started. Dockage, water and power were free (normal for the canal towns).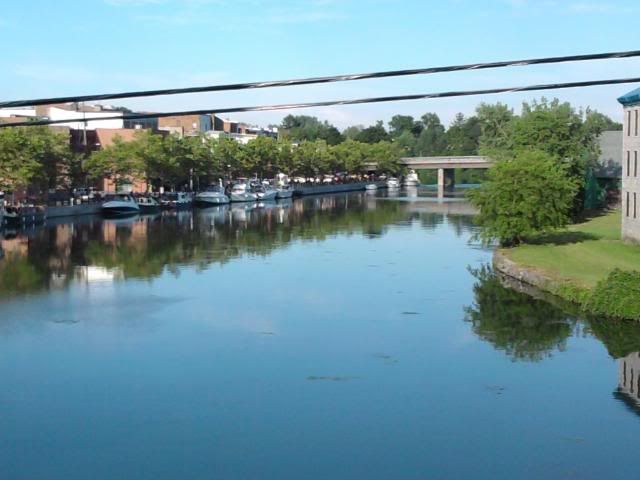 Day 10
We all decided to spend another night in Seneca Falls. We went on a winery tour around Cayuga Lake.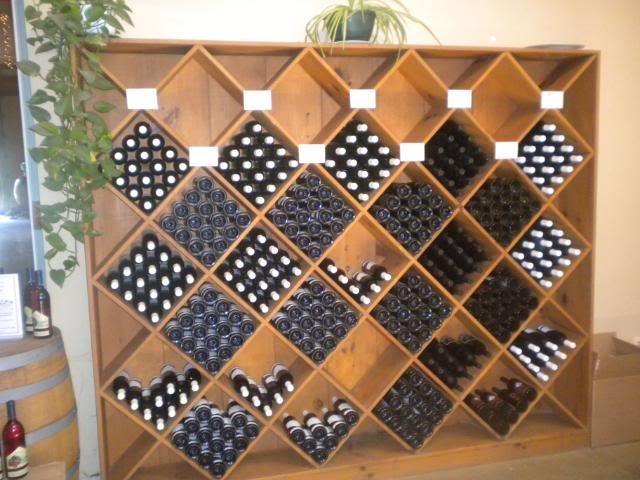 The tour bus gang!
Day 11.
We wanted to get west so we did a very long day (10+ hrs) and got to Fairport NY. At lock 26 we got very lucky and just made it under a railway bridge. The lock master had the clearance at 15' 4" and we are 15' 3". We got under but we did tap the rear edge of the bimini.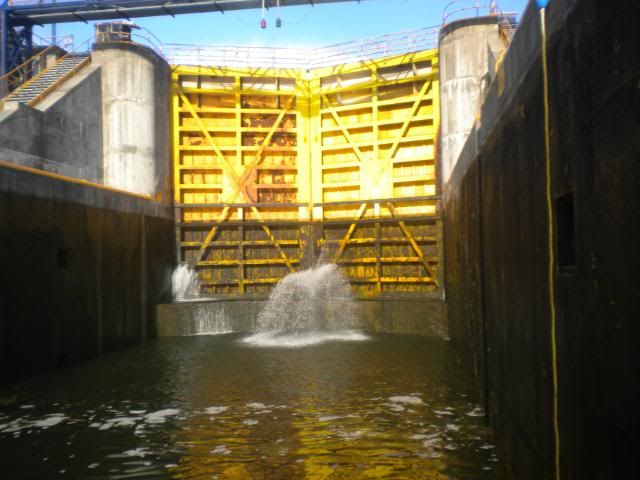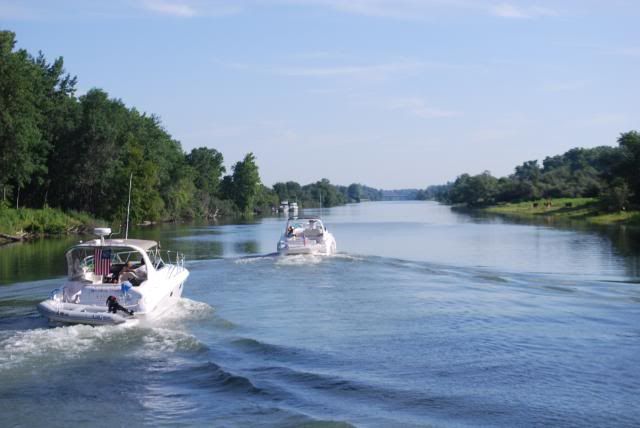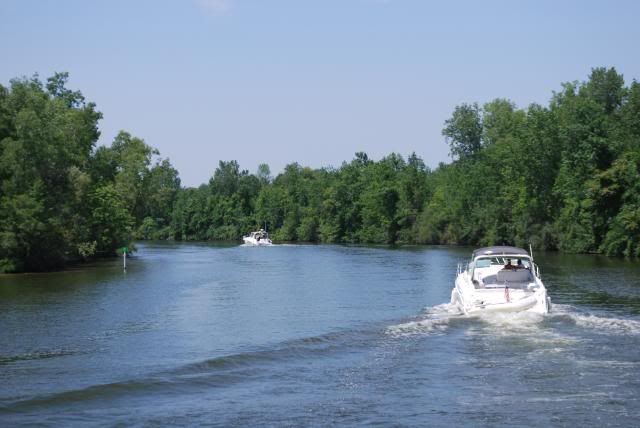 Day 12.
We spent the morning working on our boats. I had overheating problems in the starboard engine and the port transmission cable needed some adjustment. My starboard oil cooler (Crusader) had junk in it and all was good after flushing it out. The Silverton was having issues with his port engine that was fixed with a new set of plugs. We finally got going around noon and made it a short day by stopping in Spencerport NY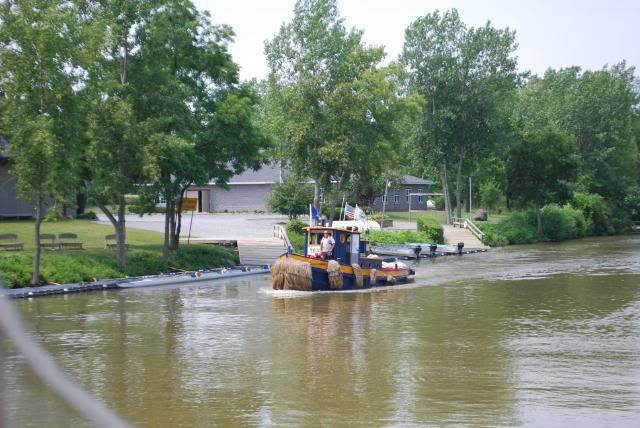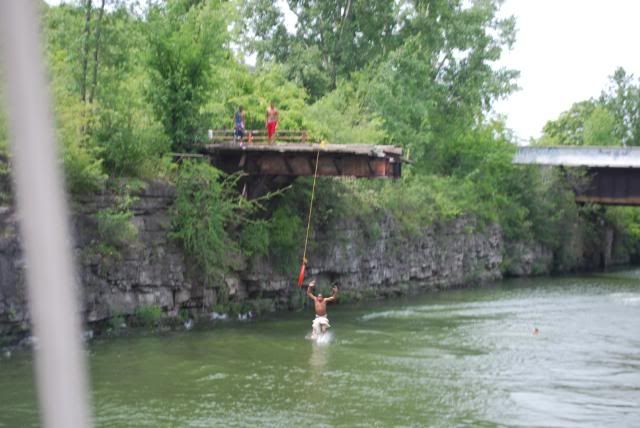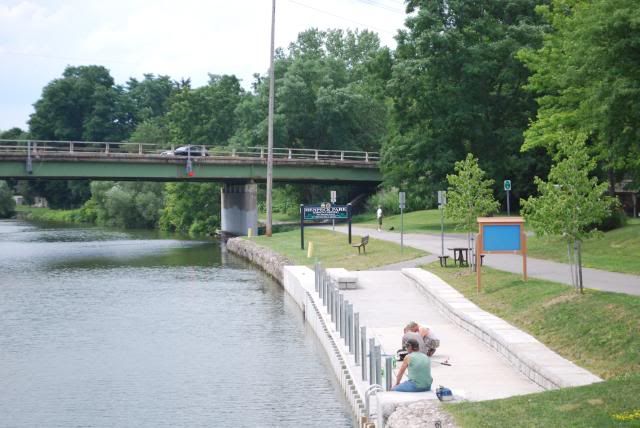 Waiting my turn to get gas
Day 13.
Another really long day but it would be our last on the canal. Only 2 locks but lots of lift bridges. We came out into the Niagara River and went to the Buffalo Launch Club where we spent two days.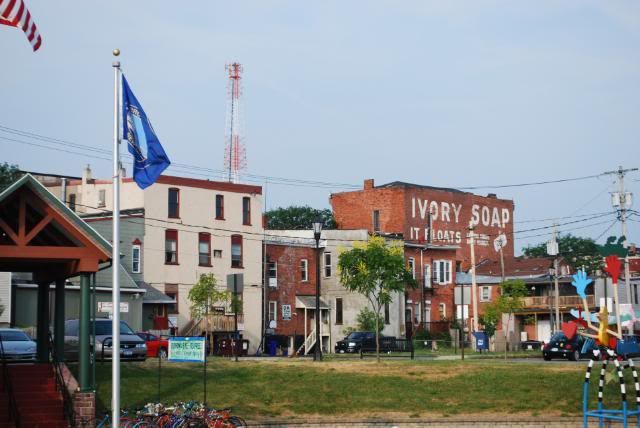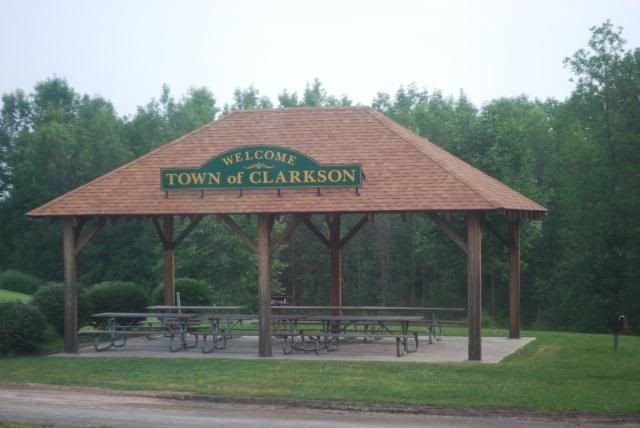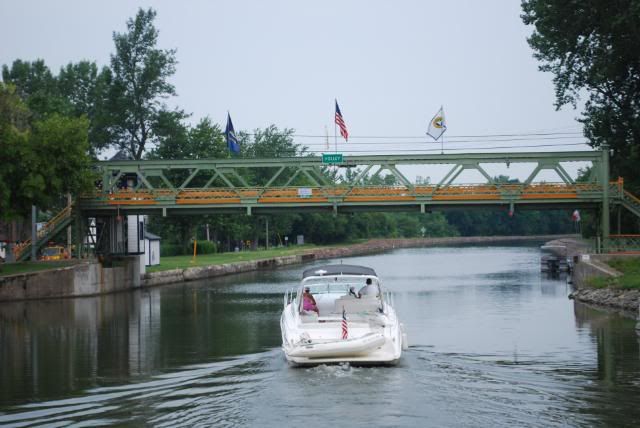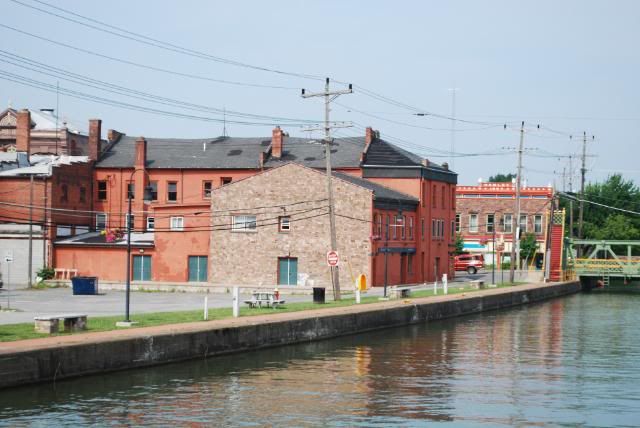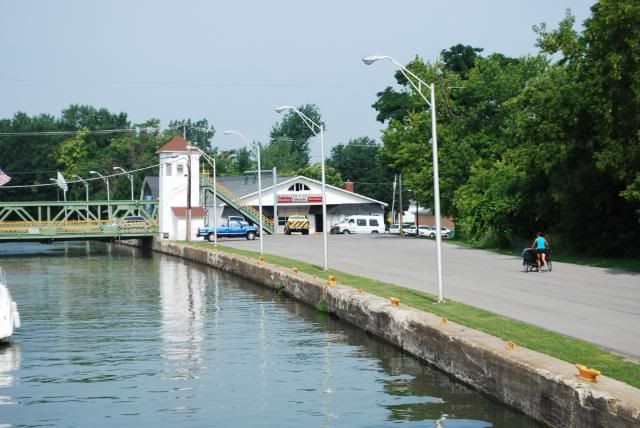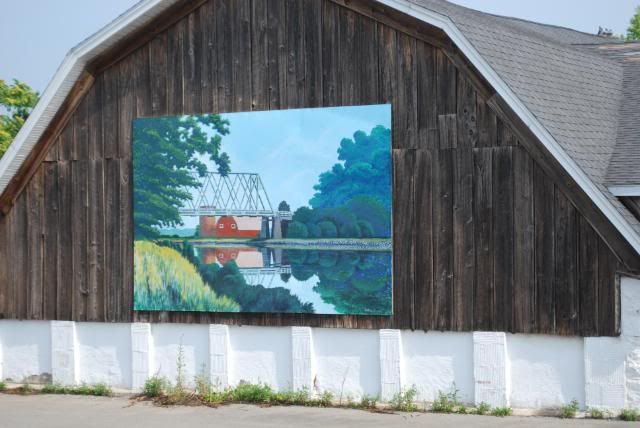 Day 15
Left the Buffalo Launch Club and headed to Commodore Perry YC in Erie Pa. The last obstacle of interest was dealing with the Niagara River current. Going under the Peace Bridge our speed dropped from our normal 13.5kts cruise all the way down to 6kts but still on plane.
Erie, we spent 3 days there and got in some much needed relaxation. For a bonus we got to spend some time onboard a 40' Tiara Sovran with IPS drives. I must admit the overall performance and the handling around docks with the IPS is nothing short of spectacular.
Day 18.
Made the 40 mile run home, it's always good to get home!